When You Reach The End Of Your Journey

You've crossed the distant sea
your spirit travels on,
through the veil of silence
beyond the break of dawn.

You left us here to labor
and wait our journey's time.
Dad, do you know
the mountain we must climb?

Take God's hand, go with Him dad.
you'll never walk alone.
Follow Him into the Light,
He'll guide you safely home.

When we reach our journey's end
we'll depart no more.
We'll meet you at the Golden Gate
upon that distant shore.





We love you, Dad
from your loving family,
Mom,
Sandy, Blanche,
Kathy, Linda, and Mike.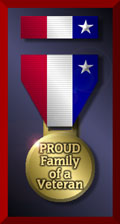 Linda Jean Fisher (Mrs. Larry Adams)
Daughter of Lee Jr. Fisher


HOME


In Memory of Ronald John Fisher-KIA

Information For Veterans

Goverment: Departments Of

Goverment: House and Senate

United States Armed Forces

Other Goverment Resources





FLAGS by Pascal Gross


A very special "Thank you"
for the use of your flag.